Superlative Aviation Ground Support Services
As a full-service FBO, Propeller Aero Services offers a full complement of aviation line and concierge-level services at Seattle's Paine Field, including:
Line Services
Jet A Fuel (Retail and Avfuel Contract)
Avgas 100LL, including self-serve located in the in the central ramp area adjacent to Regal Air.
20,000SF of Hangar Space, accommodating aircraft types up to a Bombardier Challenger 350 category aircraft
Aircraft Parking up to an Antonov An-225
Aircraft Towing
Airline and Cargo Ground Handling
Ancillary support services, including 28V DC Ground Power, Oil, Oxygen, Potable Water Service, Lavatory Service, and more.
Concierge Services
Hotel Reservations
Chauffeured Transportation
Rental Cars
Catering Arrangements
Special Services, including head of state, VVIP and airliner-category business jet movements.
About Us
About Us
Founded by Brett Smith, pilot and visionary CEO behind Propeller Airports' visually stunning and award-winning passenger terminal at Seattle's Paine Field, Propeller Aero Services is the Seattle area's newest Fixed Base Operation (FBO), growing upon the success of the now-former Castle & Cooke FBO in Everett, WA.

Propeller Aero Services (PAS) is a unique FBO in the United States: Rare is the FBO which handles the Antonov AN-225 with ease, provides underwing services to commercial airlines, delivers high-touch concierge level service to business aircraft operators, and still offers the most competitively priced Avgas in support of the general aviation community.

Propeller Aero Services will soon begin on a complete facility renovation, complementing its already world-class service, with a world-class facility befitting Seattle's growing business and general aviation marketplace.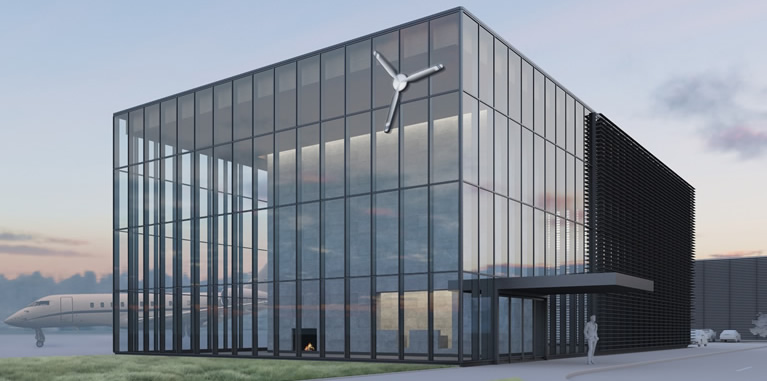 Seattle, WA | Oct. 20, 2021 Propeller Airports today announced the acquisition of Castle & Cooke's fixed based operation (FBO) at Paine Field in metro Seattle. The company also announced the formation of Propeller Aero Services, a new subsidiary that will focus on FBO development and will operate the FBO at Paine Field.
"Our goal is to bring the same award-winning, world-class service and operational excellence to our private aviation clients that our airline passengers have come to expect. This makes a tremendous amount of sense given our understanding of the airport and our home market," said Brett Smith, CEO of Propeller Airports.
"Propeller clearly understands the needs of the area and is committed to providing a high level of service," said Tony Marlow President of Castle & Cooke Aviation. "Brett and the Propeller team have a deep understanding of the market and as anyone who has traveled through the passenger terminal here can tell you, they're committed to great service and the best possible customer experience."
Propeller's planned investment in the redevelopment of current infrastructure, including a new FBO terminal and hangar complex, along with ancillary facilities, will generate economic development for Snohomish County and benefit the airport and its users. As the region continues to grow, there is demand for additional quality infrastructure to serve the general/corporate aviation communities, which Propeller is uniquely positioned to provide.